Susie Lavender Artwork
20" x 27" stained glass

Includes:

Design as shown
Choice of (domestically priced) glasses
Sandblasted Lettering
Lead/Zinc construction
Black patina
Insured shipping

Estimated time of completion from Down Payment to Delivery: 3-4 weeks

Terms:

50% down, 50% upon delivery

Notes:

Don't worry about suggesting changes.... it's part of the process in every commission. I've added the white spots and made the background look more like the drawing you sent.
I softened the colors, but they still do not show the beauty of the glasses we'll choose.
The lettering is as close to what you sent as I could find on my computer. Since the magazine wouldn't send me the font, I 'm certain I can make the final changes when I cut the sandblasting mask, making the font you see here into yours.
The thick black line around the outside represents a 3/4" zinc came that will give the piece sturdiness and a semi-framed look.
Let me know if the horse should be a dark grey glass (as above) or solid black glass (as at left).
If this design is acceptable as the final design, confirm that in an email and send the down payment to the address below ASAP. I will get glass samples off to you ASAP.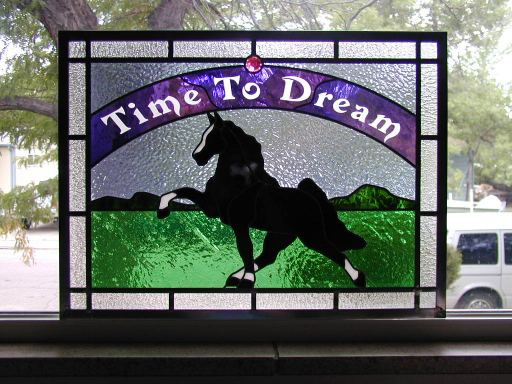 ---
Mark Stine
Transparent Dreams Stained Glass Studio
mark@tdstainedglass.com

voice: (303) 758-6059