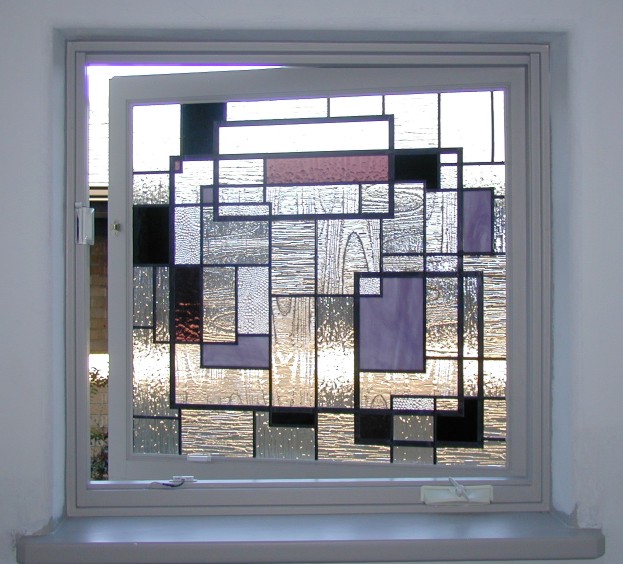 Here is a panel I created for a bathroom window. This stained glass design uses lots of inside corners to make a simple design more impressive. Inside corners in stained glass designs can be risky because not all craftspeople have mastered this art form well enough to be able to do them quickly, precisely, and in a way that the glass pieces - the ones that have the 90-degree angle cut into them - will not break during the construction process or at some later time.
This panel was constructed with 1/4" and 1/2" lead came. The outer edge is 1/4" zinc came, which provides additional strength. This panel was mounted (along with the clear glass that was already there) in a bathroom window that cranks open, which means that the stained glass will open along with the rest of the window. To accomplish this sort of mounting (after the crank-open window is already in place), the panel is held up against the clear glass with tiny nails. Then, a bead of caulk surrounds the tiny space between stained glass and window frame. Finally, the outer zinc (and the caulk and the nails) are painted to match the rest of the woodwork.

The glasses here were all chosen for privacy and to match the decor of the bathroom. The "colored" glass pieces are solid black and shades of gray, not brown as some of them appear in this photo.