"Ghost Riders in the Sky" has always been one of my favorite folk songs. When my son was young, I used to sing to him every night at bedtime, and this song was one that I sang so often that he eventually asked me to delete it from my repertoire. I did so, but I had, by then, memorized all of the words, which prompted me to sing it (a cappella, I might add) on a tour bus in China when our tour group was so bored with a long ride that we started singing songs we knew.

Anyway, that has little to do with why I made this ghost riders stained glass artwork in the winter of 2012...

One of the most difficult aspects of being a stained glass artist is coming up with good ideas to make in stained glass. One night I was driving in my car wondering what would be a good subject for a stained glass artwork when my iPod started playing this song. Bingo! It struck me that this might make a great subject for stained glass. I sketched out an initial design idea as soon as I got to where I was going, and continued working on the design the next day, wanting to get at least some of it figured out before the inspiration left me. The final result is the wonderful piece of cowboy stained glass you see above.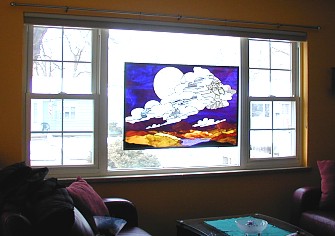 I decided to try a steel frame for this artwork, something I had not done previously. I commissioned a local welding shop to fabricate a frame out of 3/4" angle iron. It looks black in the photo above, but actually has a brushed aluminum look at this point. It could be left this way or patina-ed or painted or powder coated, whatever the lucky lover of cowboy art who buys this artwork would like.

The photo to the right shows this artwork hanging in my living room window. I use braided picture wire to have my work rather than chain. I do this because I want it to grab as little of the viewer's attention as possible. You can see that the hanging wires are totally unseen in this photo.

Other examples of western themed art would be possible in stained glass. Other price ranges as well.

The size is 40 by 27 inches. This cowboy stained glass is copper-foiled (the very intricate shapes of glass required that it be so) and the leadlines are all darkened with a black patina. The colors of the glass look fairly accurate here, except for the top cloud piece, which looks too white, and the grasslands, which are not quite as green looking as they truly are.

The price of this western themed stained glass is $4400.00. Write to me if you are interested in purchasing it and want to see additional photos of the frame or the artwork. I will include finishing the frame with patina or paint or powder coating in the stated price, and if you catch me on a good day, I might even throw in fully insured shipping, which is usually extra.