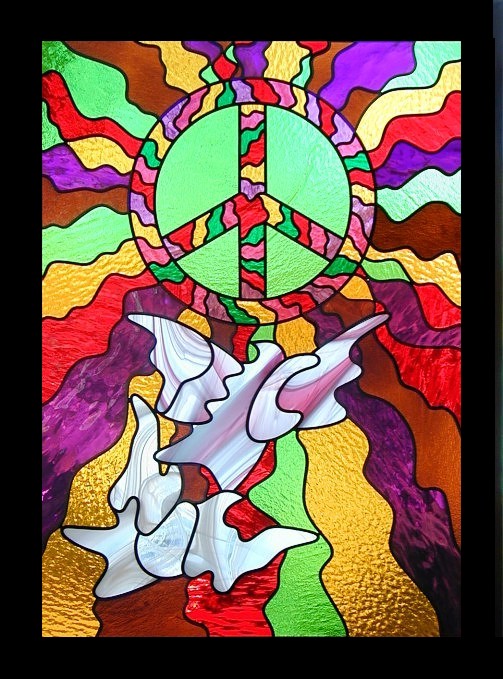 "Peace Now" was a free-hanging artwork that I liked a lot. It was sold via this web site, but damaged beyond repair while being shipped to the east coast. I use good shippers; UPS for smaller stained glass artworks and Craters & Freighters for larger ones. Breakage is rare, but the fact that it happens at all is why my shipments are always insured for their full value. Even the shipping charges are reimbursed when an artwork is damaged.

But it was hard to "lose" this one. It was very cool.

This peace loving stained glass was made with 5/32 inch lead came, and the lead and solder had been blackened with a chemical patina.

This image is fairly accurate. The purples at the top are too blue, and actually look like the reddish purple at the lower left of the artwork. The green is a vibrant lime-green shown most accurately at the upper left corner of the artwork. The upper dove is a pink and white swirl and the lower dove is a peach and white swirl. Both are shown well here.

This artwork was framed in an oak frame that looks black here. The stained glass size is 20 by 28 inches. With the oak frame, the overall size is just over 23 by just over 31 inches. The frame has screw eyes at the top, so it is ready to hang in a larger window or in front of the stationary side of a sliding glass door. Becuase of the deep vibrant cathedral colors, this artwork would not work well hung in an interior space or anywhere that does not have sunlight (direct or indirect) coming in.

The price of this peace themed stained glass was $2400.00. I will miss it..