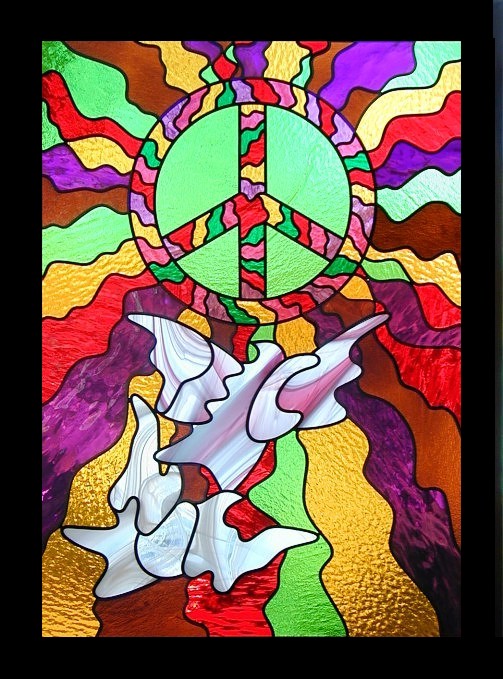 "Peace Now" is a free-hanging artwork that is currently for sale. It is done in 5/32 inch lead came, and the lead and solder have been blackened with a chemical patina.

This image is fairly accurate. The purples at the top are too blue, and actually look like the reddish purple at the lower left of the artwork. The green is a vibrant lime-green shown most accurately at the upper left corner of the artwork. The upper dove is a pink and white swirl and the lower dove is a peach and white swirl. Both are shown well here.

This artwork is framed in an oak frame that looks black here. The stained glass size is 20 by 28 inches. With the oak frame, the overall size is just over 23 by just over 31 inches. The frame has screw eyes at the top, so it is ready to hang in a larger window or in front of the stationary side of a sliding glass door. Becuase of the deep vibrant cathedral colors, this artwork would not work well hung in an interior space or anywhere that does not have sunlight (direct or indirect) coming in.

The price of this peace themed stained glass is $2400.00. Write to me if you are interested in purchasing it and want to see additional photos of the frame or the artwork. I will also give you a quote that includes fully insured shipping.