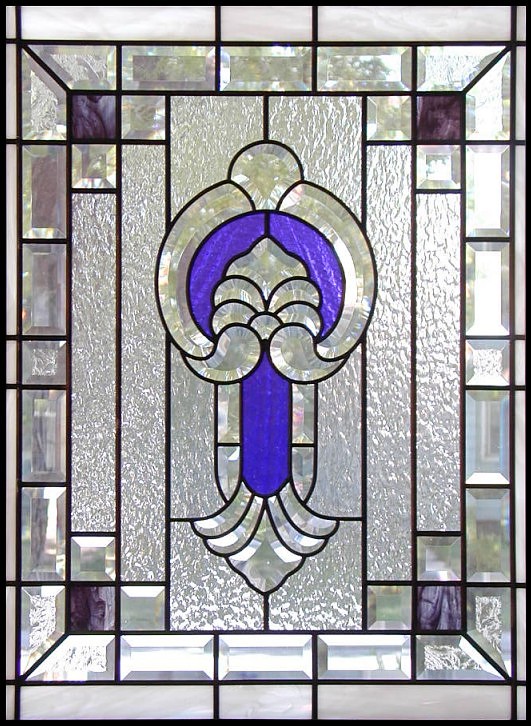 The photo of this beveled and stained glass window was taken prior to installation. I wanted a good photo, and knew I might not get one once the pair (I made two of these) were installed. This was because the doors holding these beveled glass panels were interior doors, set about five feet farther in than the exterior doors at the entrance of this home. In fact, the day I installed these panels, the outside doors had not been hung and the front of this home being remodeled about 30 minutes south of Denver was boarded over with plywood.

I used 1/4 inch lead came for the background and border aspects of this artwork, and 3/16 inch lead came for the beveled and colored glass centerpiece. I used 1/4 inch U-zinc around the panels and 1/4 inch H-zinc for the six long vertical straight lines in the background and border. By doing this, no steel reinforcement bars had to be soldered to the panels for support; adequate support was already built in.

Here is a good example of one limitation that comes from the use of beveled glass pieces in a border. Because bevels come in certain discrete sizes, it would be almost impossible to get the bevels (plus the lead that's between the glass pieces plus the zinc around the outer edge) to come out to just the size needed. Since these doors were already made when the client first contacted me, the size of the openings in the doors was already determined. The client wanted bevels as part of the border, so the white glass you see surrounding the beveled border pieces had to be added to bring the size up to that needed, and there had to be more white glass at the top and bottom than on the sides of these stained and beveled glass panels in order to be the correct size in both width and height.

I always grind ready-made bevels so they fit more precisely. This allows for the use of a fairly thin lead came to surround the beveled glass, leaving as much bevel as possible showing.

This panel is also a good example of why beveled glass design SHOULD BE CONSTRUCTED WITH LEAD CAME! The geometry of the bevels looks far better complemented by the uniformity of line width that can only be achieved with lead came. Anyone who copper foils bevels is almost certainly a stained glass artisan who never learned the use of lead came. Ask! You'll see. Copper foil is not the best choice for any geometric pattern, but I've always felt that to be especially true with bevels!

.
If you're considering a custom stained glass that includes bevels, read more about the
use of bevels in my artworks
.
Go directly to another Beveled Glass Artwork
Return to the gallery