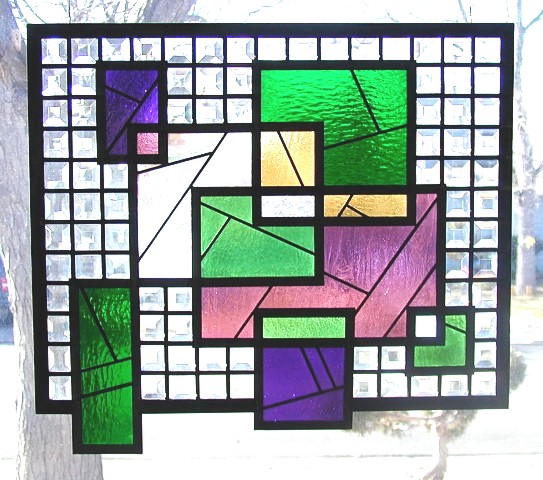 This contemporary abstract beveled glass artwork uses 84 square bevels [1.5" x 1.5"] and three sizes of lead came to create a unique and attention-getting look.

I used 1/4, 1/2, and 5/32 inch lead cames on the interior of this artwork. I also used 3/4 inch zinc came around the outside edge for additional strength. The lead, solder, and zinc have all been darkened to a dark charcoal gray with a chemical patina.

This artwork is not large, measuring only 24 1/4 inches wide and 21 3/4 inches high. If you like this stunning look as much as I do, this design could be made in any size and any color scheme. It could be done as a mounted artwork, fully covering a window, or as a hanging artwork such as you see here.

The price of this contemporary beveled glass artwork is $1400.00. By clicking on the "contact" link to the left, you can contact me to find out how much more insured shipping would be.