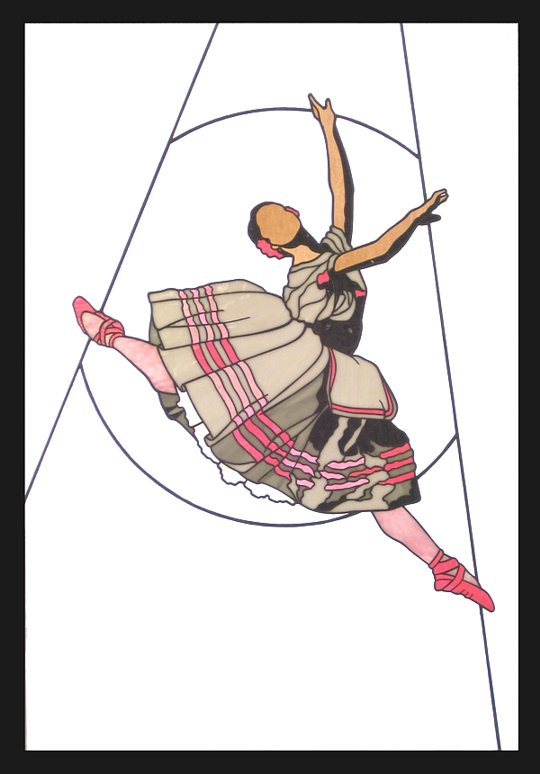 This piece depicting the ballet Giselle in stained glass is one of my all-time favorite artworks, and in my opinion, one of my finest. The design was adapted from an old photograph. The final design, the choice of glasses, and the delicacy of the lines combine in such a way that I am continually captivated when I gaze at this artwork.

This ballet stained glass is a freehanging stained glass artwork that is currently for sale. This ballet stained glass artwork is framed in a custom made wooden frame that is unfinished. The buyer of this artwork could specify how the frame should be finished, and a black finish, as in this main photo, would certainly compliment the solid black glass in the artwork itself.

While the main photo above shows the intricate detail in this copper foiled artwork, the image below shows the artwork in natural light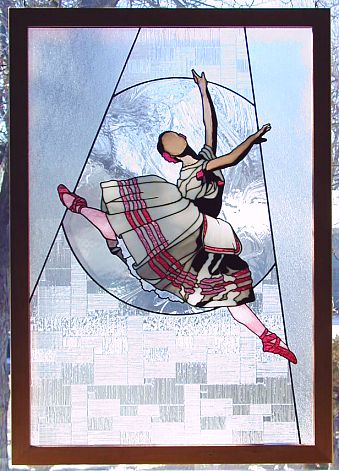 Overall size is about 29 inches wide by 40 inches high. This, like all of my artworks, would arrive ready to hang, including plenty of braided wire and screw-eyes for easy hanging from your wood, metal, or plaster sash window sill.

The price of this most extraordinary piece of ballet stained glass art is $5500.00. Contact me for a price that includes fully insured shipping.