.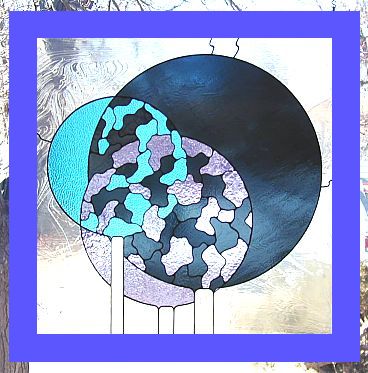 Fun in stained glass is achieved in this freehanging artwork titled ">Lollipop Jungle II", which is currently for sale. This piece is constructed using the copper foil method (see my Craftsmanship Page for a detailed explanation). The "blackish" lollipop is actually a cathedral (i.e., see-through) blue/gray glass. The background glass is a clear glass with a swirled texture. The lollipop stems are a different clear textured glass that can't be seen here, but stands out nicely from the background.

This fun stained glass artwork has a wooden frame that has been painted blue (as shown here). The frame's color could be changed by re-painting it to fit in with this artwork's surroundings, for an additional charge.

Overall size is about 28 inches wide by 28 inches high. This, like all of my artworks, is a one-of-a-kind piece and is perfectly crafted. It is ready to hang, and comes with plenty of braided wire and screw-eyes for easy hanging from your wood, metal, or plaster sash window sill.

The price of this unique piece of whimsical stained glass art is $1400.00. Contact me for a quote that includes shipping.
Go directly to another Fantasy Stained Glass.
Return to the Gallery