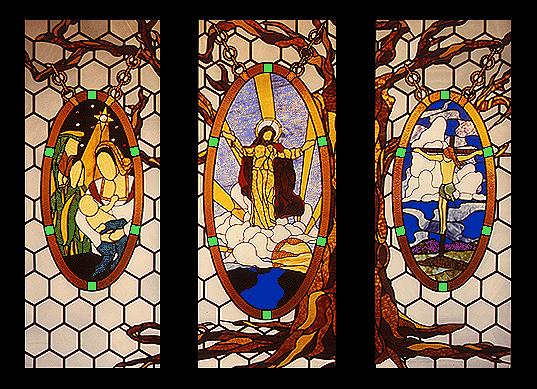 These liturgical stained glass chapel windows were produced for the home of Mr. & Mrs. Willie Nelson in 1976. The Nelson's had seen my work at a one-person show at a restaurant in Evergreen, Colorado, where they were living at the time. They contacted me, bought several of my free-hanging artworks, then commissioned this set of windows for a small room in their home, which they intended to use as a chapel and Sunday-school room for their two daughters. Connie (Mrs. Nelson) explained that it wasn't that they were ultra-religious, but that Willie's fame made it impossible for them to attend church like everybody else.

Although I like this artwork a lot, my design skills in 1976 were much less refined than they are at present. I like to think that I would create something much more impressive, stylistically, if given the same opportunity today. An example of a much more recent artwork with a Christian theme can be seen here.
Go directly to another Religious Stained Glass.
Return to the Gallery