.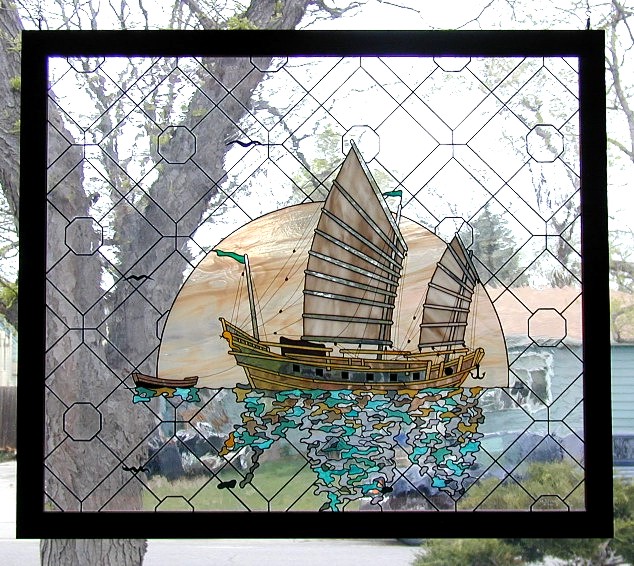 This stained glass artwork, titled "Sampan", is a free-hanging artwork that is probably the most intricate piece of stained glass that I have ever done. I have won several awards for this piece. This piece is copper-foiled glass with many lead overlays. In the moon I have precisely matched the swirls from one piece of glass to the next. This required that I glue all of the paper pattens to the sheet of glass, then cut out all the pieces without making any mistakes. The same is true of the sails, the swirls in the glass flow from one piece to the next, but this time in the wispy opaque gray glass.

The background is a very soft "antique" textured clear glass, so soft you can see the tree outside my front window and the house across the street through the background glass.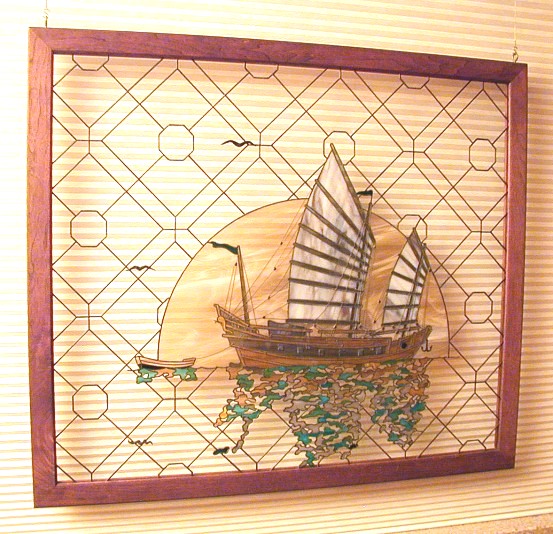 .


Here is a photo taken with the honeycomb shade pulled down behind the artwork. The glasses look very different in this low-light situation.

As you can see in this photo, this artwork is framed in a natural walnut wood frame.

Jump to another of my Fantasy Stained Glass Artworks.

Jump to another of my Asian Stained Glass Artworks.
Return to the Gallery