.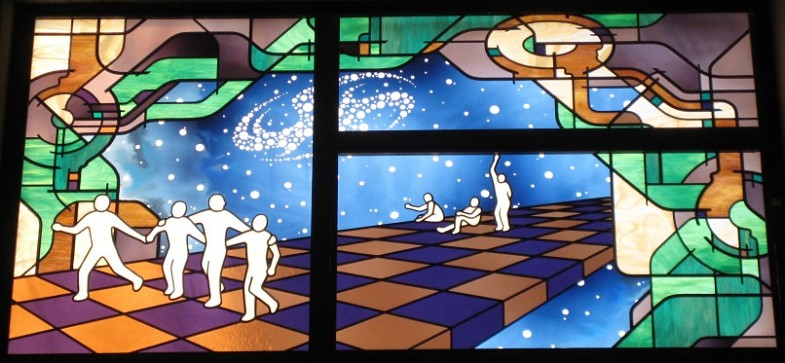 This triple set of windows is mounted about 15 feet off the ground at the Denver Jewish Community Center. It was donated to commemorate the passing of old friends in the Denver Jewish community, and the design was developed around that theme. It was designed, fabricated, and installed in 1983.

For the sky, I used blue-on-clear flash glass, allowing me to sandblast the stars into the surface of the glass.

This artwork is composed of three separate stained glass panels, installed as shown here. Originally, the window was one large 5 foot high and 10 feet wide opening. A local window contractor was utilized to fabricate and install metal separations that matched the original metal window frame and that divided the interior space into three sections. This allowed for the stained glass to be made in three workable-sized panels instead of one too-large-to-handle panel.

This sometimes confuses people, so I will restate it. The clear glass is still one large 5x10 foot window but the space on the interior side of the clear glass is divided into smaller openings, each one capable of supporting the weight of the stained glass that would eventually be mounted in it. This is adviseable for very large windows, not only because it strengthens the artwork (here, three stronger panels vs. one weaker panel), but because it saves a significant amount on shipping costs as well as the cost of the artwork itself.

This artwork is a good example of how dividing a large window can be done artistically and in a way that it does not detract from the design. Although the divisions here are non-symmetric, other symmetric ways of dividing up the space are possible. Even one simple straight-line division that makes a too-large window ready to accept two workable and shippable sized stained glass panels is sometimes sufficient.

The photo above makes that artwork look smaller at the top than at the bottom, but that's just because I am taking the photo from 15 feet below the window into which the artwork is installed.
Go directly to another Fantasy Stained Glass.
Return to the Gallery