.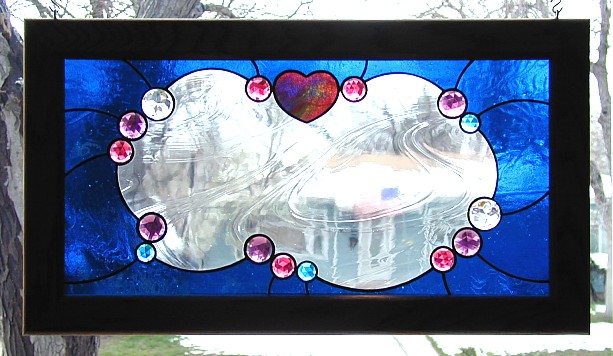 ADD YOUR MESSAGE TO THIS ARTWORK !

This romantic, unique stained glass artwork is waiting for you to add a special message, thereby creating the perfect, custom made wedding gift or love token. The price includes lettering that would be cut by a sign shop and applied to the glass by me. A good example of vinyl lettering on one of my stained glass artworks can be seen here or here. The lettering could be done in just about any font, and the color of the lettering does not have to be black. I have used vinyl lettering many times with great success.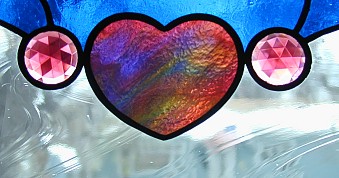 I am including a close-up photo of this artwork because the heart in the full image above looks too dark (everything else looks accurate). In person, the heart looks more like the image to the left. This detail photo also shows a better representation of how the faceted glass jewels look. They are cast pieces of glass that add a lot to the sparkle of an artwork such as this one.

This artwork is copper-foiled. It has a natural oak wood frame that looks black here, but is actually a medium brown with the natural wood grain clearly visible. The background is clear "baroque," a glass in which the swirl was raked in while the glass was still semi-molten.

Overall size is 27 1/2" wide by 15 1/4" high.

The price of this hanging stained glass is $470.00. That includes the lettering of your choice. Contact me to discuss what you might want this artwork to say and what font might look best. I would also need your zip code in order to give you an exact price that includes fully-insured shipping.
Go to another Stained Glass Wedding Gift.
Return to the Gallery