.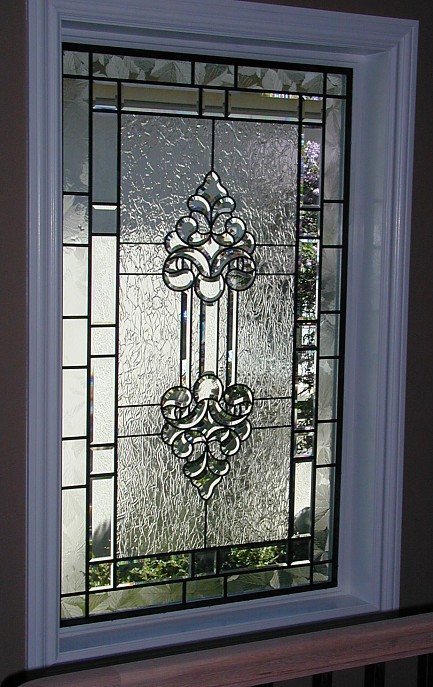 This beveled glass window was constructed with two different sizes of lead came, 1/4" for the outer borders and 3/16" for the central design. The bevels in the center are a cluster of stock bevels. The outer border is a leaf-textured, clear glass. The inner border is beveled squares and rectangles. which are also stock - or ready-made - bevels. While the textured clear glasses add privacy, yet still allow maximum daylight to enter through this north facing window, the use of bevels in the central design and the inner border reduce this artwork from full privacy to partial privacy, which was fine for this particular setting. The use of stock bevels and textured, clear glasses achieves a beveled look at a reasonable cost... far less than a fully beveled window, which usually requires custom beveling.

If you're considering a custom artwork that includes bevels, you can read more about the use of bevels in my artworks.

If you WORK in stained glass and you'd like to do beveled panels this strong and this precise, you get to see me make almost all of this particular window in my Stained Glass Class-On-DVD set available on my stained glass class on DVD web page.
Go directly to another Beveled Glass Artwork.
Return to the Gallery