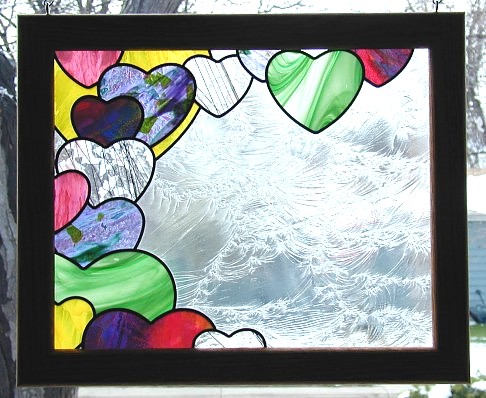 ADD YOUR MESSAGE TO THIS WEDDING GIFT !

This Love-inspired stained glass wedding present is waiting for a message (lettering) that will turn it into the perfect personalized gift. The price of this personalized wedding gift includes vinyl lettering that would be cut by a sign shop and applied to the glass by me. Good examples of vinyl lettering in my other stained glass artworks can be seen here in my easter island stained glass or here in my steampunk stained glass. The vinyl lettering can be one of many fonts, and the color of the lettering is not limited to black. I have used vinyl lettering many times with great success.

Although this artwork would make a great wedding gift, it would also be appropriate as a Love Gift for any love-inspired event. It would even make a wonderful Valentine's Day gift, a birthday gift, a Mother's Day gift, an anniversary gift...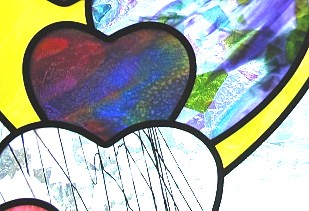 I am including a close-up photo of this artwork because the heart done in a dark glass looks too dark in the full image photo above. In person, the dark glass looks more like the image to the left.
This artwork is leaded glass; I used 5/32" lead came throughout. It has a natural oak wood frame that looks black here, but is actually a medium brown with the natural wood grain clearly visible. The background is composed of glue chipped clear glass called "oceanic" or wide glue chip.
Overall size is 23 1/2" wide by 19 1/2" high.
The price of this unique stained glass artwork is $520.00. That includes the lettering of your choice (assuming it's a font that cuts well). Contact me to discuss what you might want this artwork to say. I can show you how that would look in a number of fonts. I would also need your zip code in order to give you an exact price that includes fully-insured shipping.