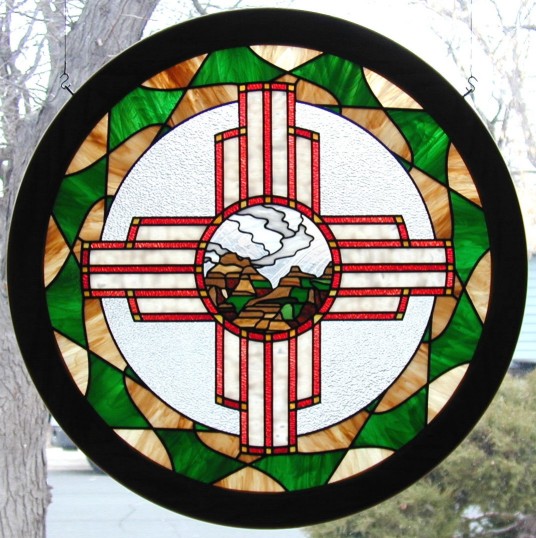 This Native American Zia Sun Symbol stained glass artwork is no longer for sale; I sold it in 2018 while it was hanging in a local restaurant where I show my work.

The Zia Sun Symbol has been depicted in many artforms. I wanted to design this southwestern stained glass artwork in a novel way, so I combined a southwestern landscape of mesas and windblown clouds with this floating symbol of the land it represents, and surround the whole with a border based on Native American pottery designs.

This stained glass artwork was constructed with 1/8" lead came throughout, and is framed in an oak frame (the wood frame looks black in this photo but is actually natural oak). The white-looking background glass is actually a clear textured glass. The texture can be seen (sort of) at the top left of the artwork.

Overall size is just over 27 inches in diameter. The buyer sent me the photo below showing the final setting.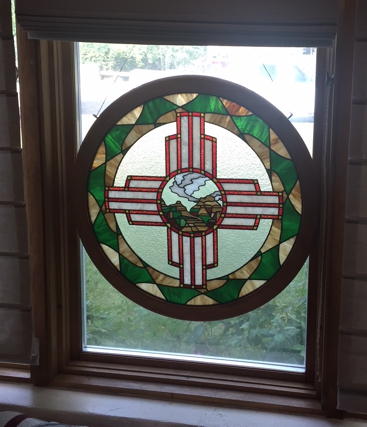 Although every piece I make is a one-of-a-kind because I destroy the only set of paper patterns during the making process, I will occasionally make a stained glass panel that is similar to one I have already made. An example would be the artwork above, which sold 24 years after I made it. Twenty-four years and one month after I made it, a second person wanted to buy it. (That means it "sold" twice in five weeks twenty-four years after I made the original. Sheesh!)

I decided to accommodate the second client, which resulted in the photos below.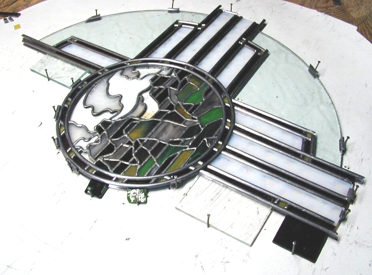 First, I created a very different southwestern landscape for the middle of this stained glass artwork. This central design was made with the copper foil method to give more realistic line values to this part of the design. The photo to the left < < < shows the early stages of the leading process where strips of lead came are cut and placed, holding the glass pieces together temporarily with nails up against pieces of scrap glass and/or old bits of lead came.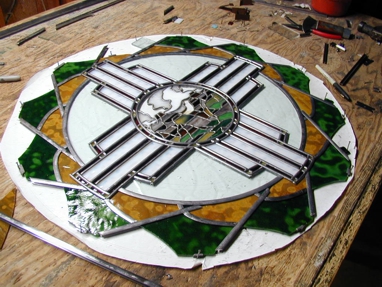 Because I am able to cut and grind my glass pieces with such precision, I generally don't build my stained glass panels on a pattern of any kind. However, circular designs are harder to do and must come out very precise or they will look off in the geometry and/or the symmetry of the design. So I build all circular designs on a pattern that shows only the circles and the horizontal and vertical center lines.

The photo to the right > > > shows the artwork when the leading is almost completed.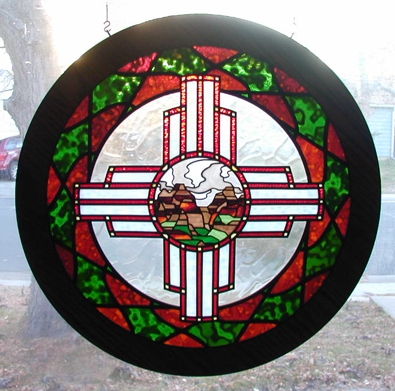 After the leading is completed, the artwork is soldered on both sides wherever pieces of lead meet. Then the panel is washed and a chemical patina is applied that darkens everything that's not glass to a uniform charcoal gray. The photo to the left < < < shows the finished artwork mounted in a wood frame and hanging in my window.


.