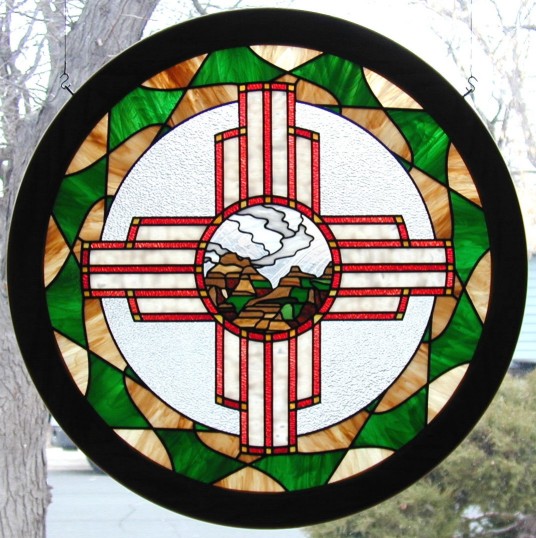 This Native American Zia Sun Symbol stained glass artwork is currently for sale.

The Zia Sun Symbol has been depicted in many artforms. I wanted to design this southwestern stained glass artwork in a novel way, so I combined a southwestern landscape of mesas and windblown clouds with this floating symbol of the land it represents, and surround the whole with a border based on Native American pottery designs.

This stained glass artwork was constructed with 1/8" lead came throughout, and is framed in an oak frame (the wood frame looks black in this photo but is actually natural oak). The white-looking background glass is actually a clear textured glass. The texture can be seen (sort of) at the top left of the artwork.

Overall size is just over 27 inches in diameter. This, like all of my artworks, is a one-of-a-kind piece and is clearly defines the precision craftsmanship that exemplifies my work.

This artwork sold in 2018 out of a local restaurant where I show my work on consignment.