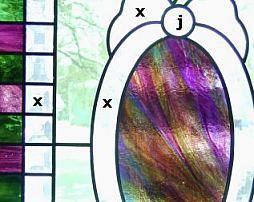 This freehanging artwork incorporating stained glass and beveled glass together in the same artwork is no longer for sale.
When I was grinding the stock bevels, they came out not fitting quite right so I added the little green "worms" to solve that problem.
I used a very pale antique green glass in the background of this artwork... it doesn't show up quite accurately here but in the actual artwork, it sets off the bevels very nicely.
The full-image picture on the left shows the colored glasses in the border fairly well, while the image on the right shows the beveled glass pieces (marked with an "x") and the clear jewels (marked with a "j"), which are like big faceted gems.