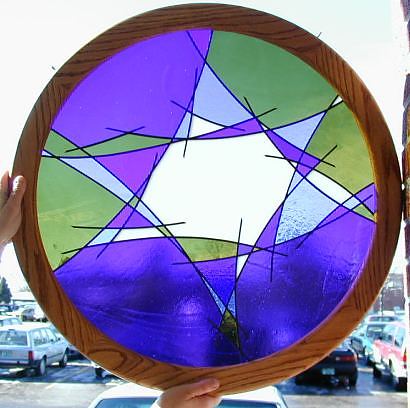 This freehanging abstract Judaic stained glass artwork depicting a Star of David is currently for sale. The green, white and deep purple colored glasses show up accurately in this photo, but the glass that looks like a light lavender in this photo is really a light blue glass.
This Judaic artwork is leaded with a very small size lead came. The overlays (leadlines that go 'nowhere') are made of lead, too.
This abstract Star of David stained glass would make an ideal gift for a special occasion such as a wedding or a Bar Mitzvah.
This one-of-a-kind artwork is mounted in an oak frame. It measures about 32" in diameter, and comes ready to hang. The price of this artwork is $920.00. Contact me for a quote that includes shipping.