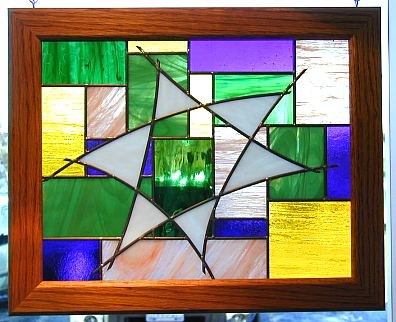 This freehanging abstract Judaic stained glass artwork depicting a Star of David is currently for sale. The colored glasses show up fairly accurately in this photo, although the washed out looking pieces at the upper right corner are the same as the swirled peach glass at the bottom.

This would make an ideal present for a Bar Mitzvah gift or Bat Mitzvah gift.


This Judaic artwork is leaded with a 1/8" lead came. The overlays (leadlines that go 'nowhere') are made of lead, too.

This is a one-of-a-kind artwork that's mounted in an oak frame. It measures about 17" wide by 14" high, and comes ready to hang. The price of this artwork is $260.00. Contact me for a quote that includes shipping.