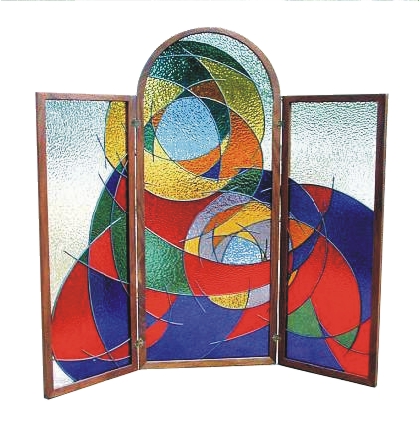 This religious stained glass artwork, titled "Madonna and Child", is a fresh rendition of an old and venerated icon of Christianity. As I usually do with themes that I think are too-often used in religious stained glass, I tried to create an altogether new way of looking at this subject. I am very pleased with the way this artwork turned out, and I am glad to offer it for sale here on the Internet. The actual artwork is being displayed at a gallery in Denver that specializes in spiritual and religious art, and it is receiving wonderful feedback, so they tell me.
I also offer this as an example of what I am capable of for those who may be looking at my web site in an effort to find a stained glass artist to design and create windows or other artworks for a church or temple. I like doing religious commissions because there is always a lot of research and learning involved, and I would relish the opportunity to do more liturgical stained glass art. Unfortunately, my decision to work alone on most projects has kept me from obtaining many of the religious commissions that I have applied for. I think this is generally because the typical church or temple art committee thinks it would be too great a risk to engage a lone artisan rather than a large stained glass studio employing many workers. Actually, the risk is relatively small because [1] my long experience with this medium has allowed me to become on of the fastest stained glass artisans I have ever known, [2] I have and would again employ other skilled artisans if a commission was too big for me to handle myself, and [3] I would never take on a commission that was clearly beyond my capabilities. I think all of this is given credence by the very large chapel I did for the U.S. Air Force in 2005. If you missed it, that artwork can be seen here.
All of the glass used in this artwork is English Muffle, a cathedral glass with a definitive texture that comes in many colors. The uniformity of texture and translucency is significant in making this artwork a real eye-catcher. I used 5/32" lead came throughout this artwork, and all of the lead and solder have been patinaed a charcoal gray.
The three panels of this religious artwork are framed in a custom made walnut frames. They are joined together with small antique brass hinges on the front side of the artwork. The artwork must be taken apart whenever it has to be transported any great distance, but assembly is easy and takes only about 5 minutes. Ideally, I think this artwork should sit on a table or other raised platform.
Overall size is 58" wide by 43" tall, although it is only about 50-52" wide when the side panels are set at an angle, which enables the artwork to stand up. The price for this unique piece of religious stained glass is $3500.00. Contact me for a quote that includes shipping.