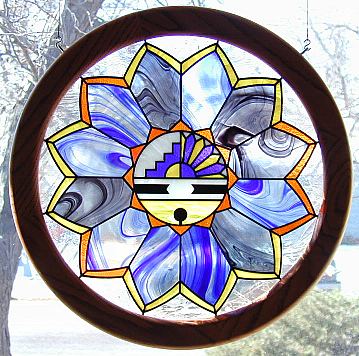 Kachina Stained Glass #3

is a freehanging artwork that is currently for sale. I used 1/8" lead throughout this Native American inspired artwork. The Kachina's feathers are made from a blue/clear swirled glass and a black/clear swirled glass. The eyes and mouth are zinc overlays. All lead, zinc, and solder has been patina-ed a uniform charcoal gray.
This stained glass artwork is framed in a natural oak wood frame that looks black here but is actually light brown with visible wood grain.
Overall size is 21" in diameter, including the oak frame.
The price of this one-of-a-kind piece of southwestern art is $880.00. It comes ready to hang. Contact me for a quote that includes shipping.