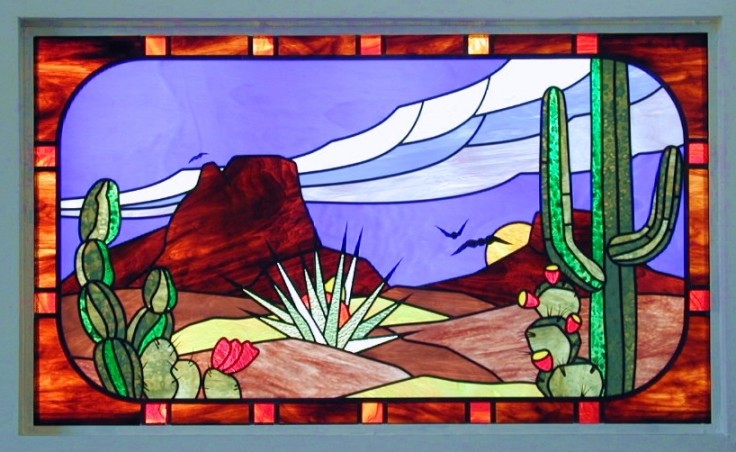 Southwest art is a popular theme in stained glass! Because much of what I see in southwestern stained glass does not appeal to me personally, I try to create southwestern stained glass designs that are charming and yet pristine; neither overdone nor trite in being too simplistic.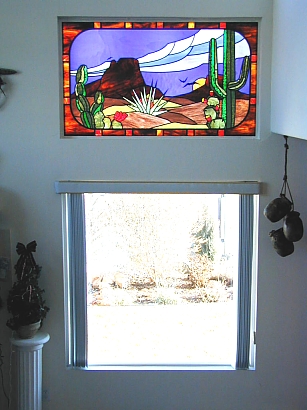 The southwestern stained glass artwork above is a good example of what I might do for you in southwestern stained glass. This transom window required a fairly simple design because the window the clients wanted to cover up was large and the price had to remain within their budget. I was able to achieve this by making the sky, the mountains, and and the hills fairly simple, which allowed me to put more work (more intricacy) into the cacti. Adding overlays to make the spiny tips of the yucca seem to stretch well beyond the background mesa also added a lot of unique interest to this southwestern landscape in stained glass

As the photo to the right shows, this window was mounted up above an eye-level window. The clients needed this stained glass window to block about 60 southwestern stained glass transom,cactus stained glassto 70 percent of the light coming in the upper window because when the sun was shining full force through the upper window, the glare and the heat that resulted in the room were intense. This light reduction was accomplished by using opaque and semi-opaque glasses throughout this artwork.