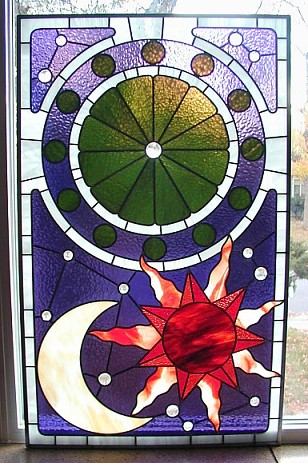 This stained glass astrology chart was originally a freehanging stained glass artwork that was purchased by a friend as a gift. Once he indicated his desire to give it as a gift, I painted his girlfriend's astrological chart on the artwork, including the 12 signs of the zodiac - one in each of the twelve green circles. The only thing I would do differently today would be to use computer-cut sticky vinyl for the chart and signs of the zodiac instead of paint. Those would be much more perfect looking than my painting could ever be.

While that photo used to be on this page, it is no longer here as it was never a photo that showed off the artwork well. But, in 2005, a visitor to my web site contacted me to make a version of the original design. He and his wife wanted just that design in stained glass - to be mounted in an opening on a stairwell in their home - but without any hint of the astrological part. I guess that goes to show that each patron of an art form has their own interpretation of what they see in it.

The artwork I made for them (shown here) came out perfectly rectangular. It's only the photo of it that doesn't look square.

This celestial stained glass artwork is constructed with 1/8th inch lead came throughout the interior, and 3/8" zinc came around the outside edge to give this artwork adequate support without the use of steel support bars.

The size of this artwork is about 28 inches by 40 inches.

Want to see this artwork being made? Go here.