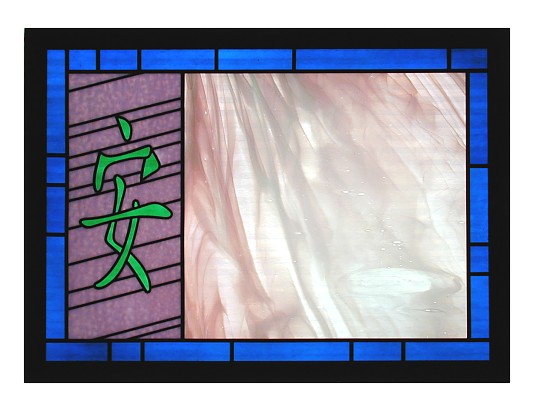 This Chinese stained glass artwork is a free-hanging artwork that is currently for sale. It is leaded glass (1/4" and 5/32" lead cames), with a custom made walnut frame (the frame looks black here, but is actually a walnut brown with the natural wood grain clearly visible. The large rectangle on the right is a hand-blown pink glass.

This photo was taken in front of an off-white honeycomb blind. The translucency of the hand blown glass made it hard to see the true colors when the blind was absent. This is an anomoly of the photographic process and does not affect the look in person, where one can see all of the colors perfectly. If you are seriously interested in purchasing this artwork, let me know if you want to see an image without the blind behind the artwork.
Overall size is about 31 inches wide by 23 inches high. This, like all of my artworks, is a one-of-a-kind piece and is perfectly crafted. It is ready to hang, and comes with plenty of braided wire and screw-eyes for easy hanging from your wood, metal, or plaster sash window sill.
The price of this unique stained glass artwork is $960.00. However, contact me for an
exact
price that includes fully-insured shipping.