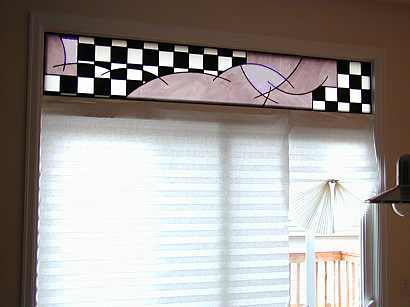 Here is a good example of stained glass solving a light reduction problem. This south-facing dinette transom window allowed afternoon sunlight to fall on the big screen TV in the adjacent family room. Watching the TV became almost impossible when this happened. The clients informed me of their need for significant light reduction, so I designed several window ideas that all employed solid black, solid white, and gray glasses. The design they picked fit nicely with their contemporary kitchen design and neutral colors. It also solved their light reduction problem completely.

These clients were so happy with the transom stained glass, they decided to commission two matching stained glass cabinet door inserts for the corner cabinets in their kitchen (below). There's nothing I like better than clients who are so happy that they decide to acquire more of my work... that's the ultimate compliment to an artist like myself!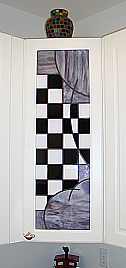 Note: One would not be limited to black and white and gray in order to achieve significant light reduction. There are glasses in every hue that are opaque enough to reduce the light. Contact me with your particular needs, and I will be glad to design ideas that solve your problems as well as give you something spectacular to look at!