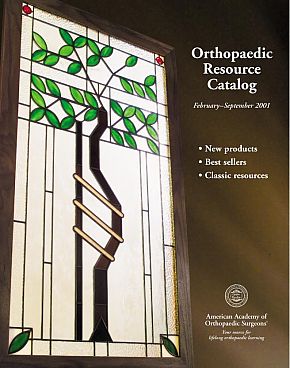 This freehanging artwork was a rush job for an Internet client. I was contacted by a design company, and asked to make a Frank Lloyd Wright(ish) style stained glass artwork depicting the universal symbol of orthopaedics -- a bent tree with a supporting brace -- for the American Academy of Orthopaedic Surgeons. They needed the artwork within two weeks so that it could be photographed for the cover of their annual product catalog (see the final cover photo, above right), and then shipped across country to be displayed as part of the AAOS's booth at their annual meeting. The artwork is now permanantly on display at Academy headquarters in Rosemont, Illinois.
This artwork is leaded with 5/32" lead everywhere except the "branch" lines to which the leaves are attached (those are 1/4"lead). As with most of my artworks, the lead and solder have been darkened with a dark patina. The artwork is shown here mounted in its custom-made walnut frame. These photos don't accurately show the color of the walnut frame or the brown glass used in the tree trunk. The red circles in the upper corners are faceted glass "jewels".
To go directly to another of my sign or logo stained glass artworks, click here.