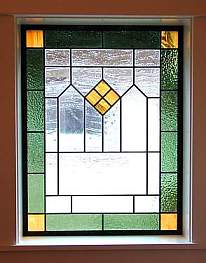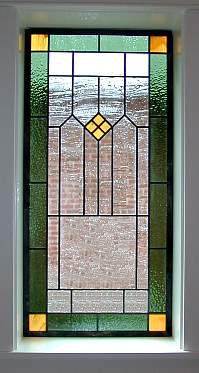 These "Prairie Style" stained glass windows were produced for one of the spec home remodel projects that are currently quite popular. In this case, the builder bought a small, older home, and was transforming it into a much larger, more elegant home with the charm of the original structure.

It's always refreshing to me when a builder is willing to add personal touches such as stained glass to a spec home. Many builders are unwilling to take this risk because they fear that any personalization of the decor will keep the home from appealing to every potential buyer. While a few potential buyers may be put off by this or almost any addition to a spec home (the color of a bathroom sink, for example!), articles I've read in the stained glass industry magazines generally say that surveys show that homes with stained glass sell faster than homes without these additions.

The stained glass shown above on the left was installed in a window on the landing of the main staircase. The stained glass shown above on the right was one of two panels installed on either side of the fireplace mantle. In both locations, the choice of a textured clear glass background helped to obscure the view of the homes on both sides of this home, while letting in maximum daylight.