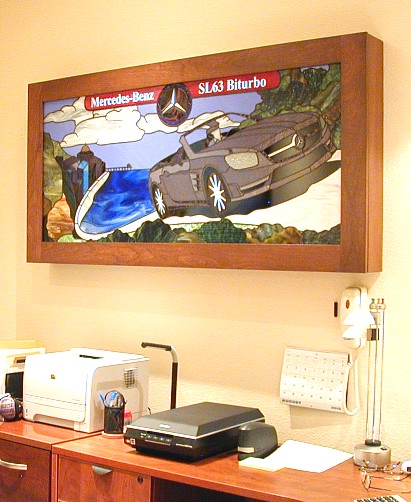 In the summer of 2013, I was commissioned to capture a Mercedes-Benz SL63 Biturbo in stained glass. This Mercedes Stained Glass was mounted into a custom made light box that was lit with LED technology. The artwork was mounted on a home-office wall, with venting into the unfinished space on the other side of the wall (I have since created an artwork mounted in a light box with it's own vents).

The overall size of this Mercedes Benz artwork is 31" high and 72" wide. The LED lights are mounted to the side walls
of the light box,
and along the top and bottom, too. A dimmer switch allows adjustment of the internal lighting, and assorted track lights illuminate the outside. A piano-hinge at the top allows the front of the box to open, although the LED lights will last for about 100,000 hours, so easy access to the inside is almost not needed.

The wheels are done with lead (Pb) overlays (10 per wheel!) soldered on top of a white oval. The lettering is done in white sticky vinyl, cut by a sign shop and applied by me.

An artificially lit stained glass artwork like this one looks great to the human eye, but is difficult to photograph well. The images below show the artwork unlit and lit, and comparing the two should allow one to appreciate all of the nuances.

The Artwork Unlit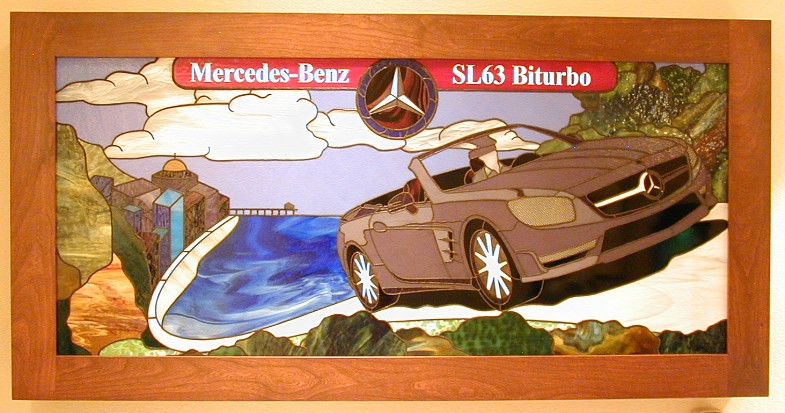 The Artwork Lit From Within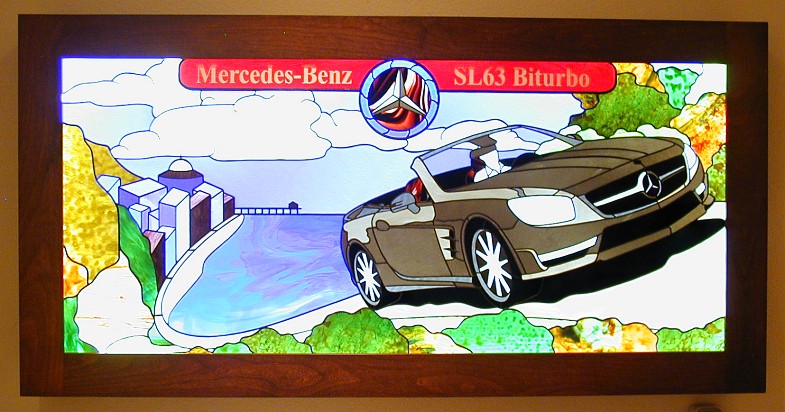 Return to the gallery