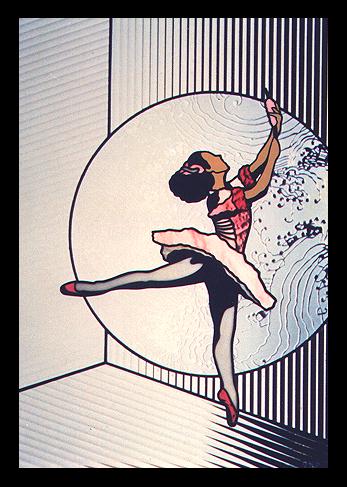 This artwork titled, Sleeping Beauty, is a wonderful rendition of the ballet in stained glass! It is one of a series of stained glass artworks I have produced depicting the ballet, one of my favorite subjects in glass.

This freehanging artwork is constructed with the copper foil method, which was necessary because the shapes of the background pieces would not allow lead came to be used. Also, with copper foil, I can get much thinner leadlines, which allowed the delicacy of this artwork to show up best.

I used two clear textured glasses for the background. This stained glass artwork is framed in a black lacquered wood frame. The glossy black finish to the frame compliment the use of solid black glass in the ballerina. To further compliment the color scheme, all of the leadlines (copper foil covered with solder) were darkened to near-blackness with a chemical patina.