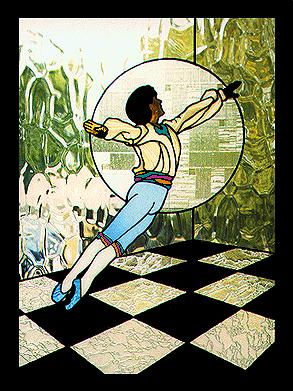 This stained glass artwork, titled "Cabriole", is a free-hanging artwork that is currently for sale. This wonderful piece of ballet art is copperfoiled glass with lead overlays (the lines between the fingers, the folds in the blouse, etc.). The background is composed of several textured clear glasses (the shades of green and other colors are just the outside world showing through). The floor is alternating squares of a textured clear glass and a solid black glass that has been irridized on the front side (which looks black when light is coming through the window and candy-colored when the outside world is dim and the inside of the room is lit). The black glass is complimented by a black lacquered wood frame.

This image has been 'retouched' only slightly to look as close to the original as possible. Everything looks right here except for the dancer's left hand and face, which should look as bright as the dancer's right hand since they are all made out of the same flesh colored glass.
rOverall sze is about 28 inches wide by 37 inches high. This, like all of my artworks, is a one-of-a-kind piece and is perfectly crafted. It is ready to hang, and comes with plenty of braided wire and screw-eyes for easy hanging from your wood, metal, or plaster sash window sill.

The price of this unique piece of ballet stained glass art is $1700.00. Contact me for a quote that includes shipping.