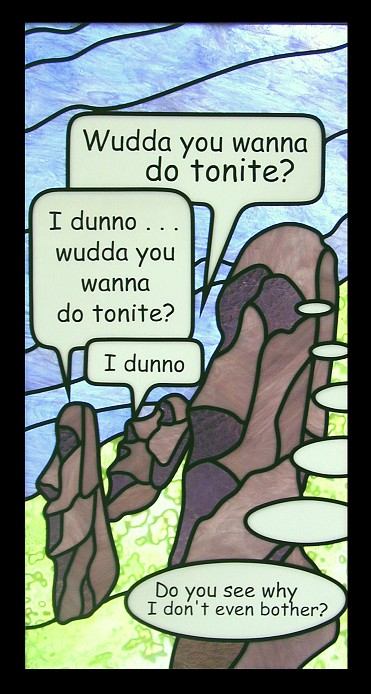 This humorous Easter Island stained glass is a freehanging artwork that is currently for sale. When I begin to make a unique stained glass artwork like this one, I start by trying to come up with a novel idea, and I'm not always sure how the final design will turn out. This one started out as a serious depiction ot the statues on Easter Island, and ended up being a joke in stained glass. How unique is that?

The lettering is sticky vinyl. The lettering balloons are white glass but they look off-white here. Everything else looks accurate, except the frame, which is walnut but looks black here.

The size is 16.25" wide by 30.75" tall.

The price is $860.00, plus the cost of insured shipping if you don't live near Denver.

Wouldn't this be a truly unique humerous stained glass artwork to hang somewhere that you might need to inject a little levity? It would also make an ideal gift for just about any man or boy on the occasion of a birthday, Bar Mitzvah, graduation, or just the closing of a big deal.