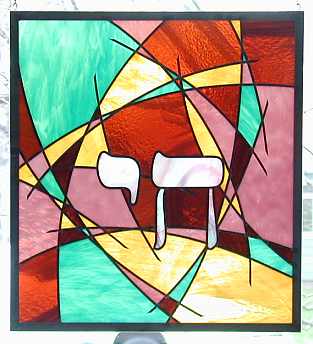 This piece of stained glass Judaica is currently for sale. The lettering says "Chai," the Hebrew word for Life, and the background is an abstract Star of David. It would make an excellent gift for a Jewish wedding, a Bar Mitzvah or a Bat Mitzvah.
The colors are fairly accurate in this photo, except for the glass in the letters, which is a white glass with pink and turquoise swirls.
There is no wood frame on this piece, but the heavy zinc came around the outside assures adequate support and longevity to this unique piece of Judaica. The Zinc has been mitered at the corners to maximize the aesthetic look of an artwork without a wood frame.
Although this Judaic stained glass artwork is fairly small (15 3/4" wide by 17 1/4" high), its pattern is intricate and one-of-a-kind. The price is $980.00. Contact me for a quote that includes shipping.
All in all, it would make a great gift for someone special... even yourself!