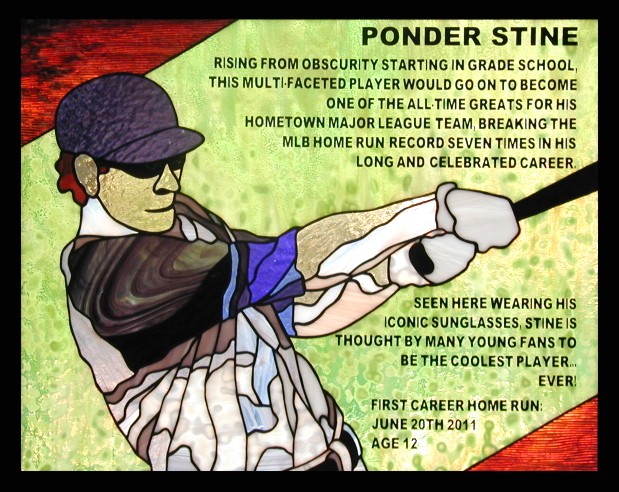 In the summer of 2011, my son Ponder (who loved playing baseball in his younger days but was just an average player), came up to bat just as I was about to leave the game to go to a stained glass appointment. Suddenly, the planets were aligned just right and the wind died down and Ponder HIT ONE OVER THE FENCE! Literally! It happened at one of the league's full-sized baseball fields - one with a tall fence surrounding the outfield. On this occasion, his generally timid swing was replaced by the powerful swing of a young boy approaching manhood, and it connected just right, sending the baseball well beyond the fence.
Thankfully, I was there to see it happen. As he rounded third and headed for home, his teammates gathered at home plate to welcome the hero into their arms. That summer, only three guys on his team hit homeruns, and I was very proud to be the father of one of them.
Having a dad who makes stained glass can
sometimes
be a cool thing, especially when that dad is so jazzed by something that he just has to immortalize it in glass. And sure enough, I created this fantasy baseball stained glass artwork to commemorate the occasion. Only time will tell if the rest of it comes true.

In any case, a stained glass gift like this would be ideal for any boy or young man on the special occasion of a birthday, Bar Mitzvah, confirmation, or graduation.

This artwork measures 24" wide and 19" high, including the 3/4" zinc came edge that provides strength and gives the artwork a framed look without a wood frame. The glass is held together with the copper foil method. The lettering is cut from sticky vinyl.