In the fall of 2015, I was commissioned to make two stained glass windows with bevels that would match an Italian inlaid marble table in a residential breakfast nook. The intricate stained glass artwork you see here is one of the hardest designs I have ever attempted to construct with lead came in my 46+ years as a stained glass professional. The matching window, completed first, was the hardest design I had leaded together for a very long time, but the one here tops that list - probably forever.
Before I began this artwork, I was unsure of my ability to accomplish this task. Normally, designs this intricate are copper foiled. However, the symmetry of this design cried out for lead came, and I was determined to make it happen.
This project took seven weeks to complete, far longer than I had anticipated. By the time I was 80% done with the consturction phase, my fingertips were so sore I could hardly touch anything.
But the final result was worth it, as you can see here.

This intricate stained glass artwork is mounted to the interior side of this door. The wood still needed to be patched and painted at the time I took this photo, but the light was about as good as it was ever going to get for photo-taking and I was excited to put it up on my web site, so for now it's a photo with the wood unpainted.

.
.


This intricate stained glass panel is made with 4 sizes of lead and zinc came. The thickest lines you see here are 1/2" came, zinc wherever the lines are straight (for added strength without unsightly reinforcement bars) and lead wherever these thickest lines are curved. The background lines are all 1/4" lead came, the lines that surround all of the beveled glass pieces are 3/16" came, and the lines that make up the intricate central designs (and the birds in the border) are all 5/32" lead came.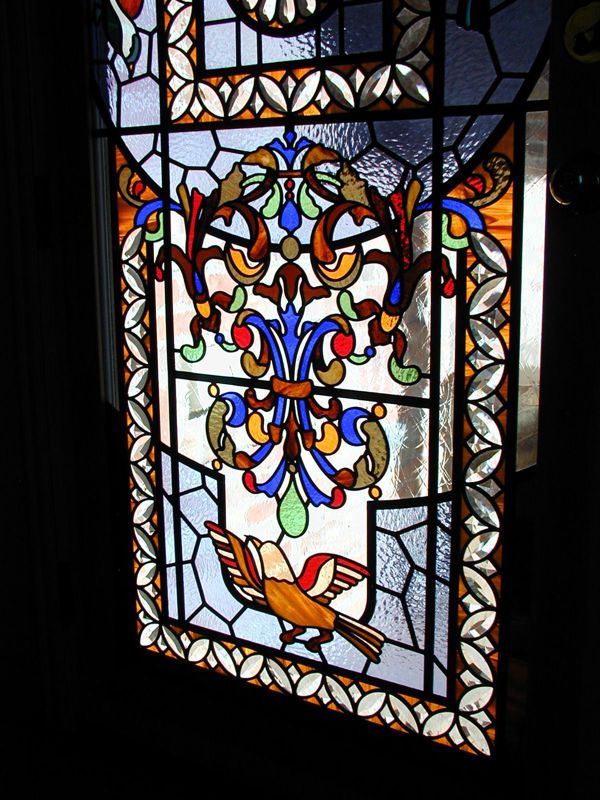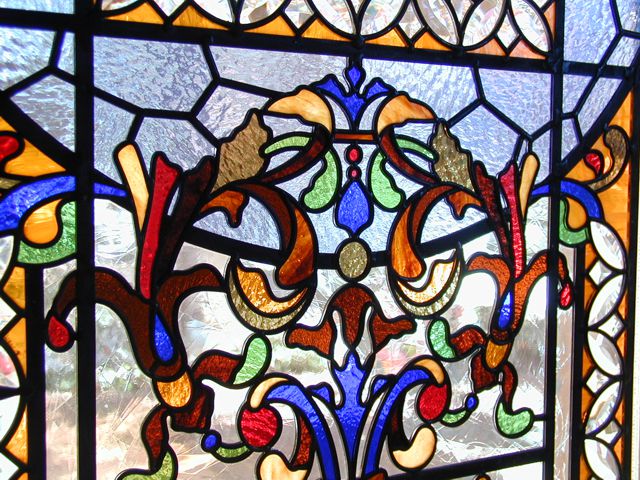 The construction of this artwork required me to figure out some new techniques. Fortunately, the most critical of those - nailing down wood stops in the middle of an artwork to ensure that certain internal lines came out perfectly straight and positioned correctly - was something I had already worked out with the matching beveled window I made just prior to this one.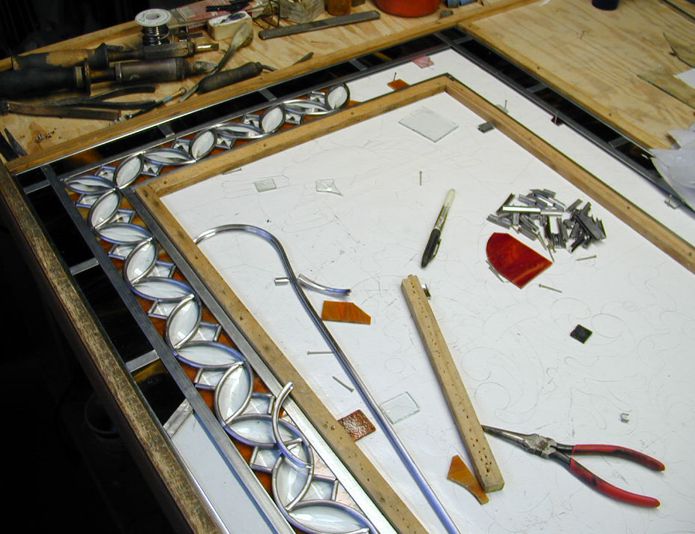 Although the mathematics had been worked out precisely beforehand, the wood stops you see nailed down in this photo helped me to build the intricate beveled border design into an "enclosed" space. Although the glass pieces were designed to line up correctly, this temporary space closed in on three sides allowed me to tap the pieces in tightly, trusting that the precision shaping of the pieces beforehand would ensure that they ended up in their proper positions.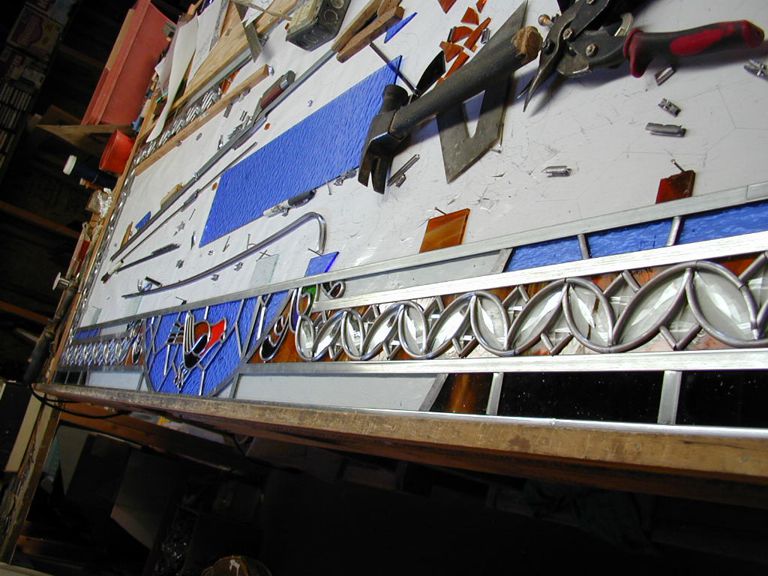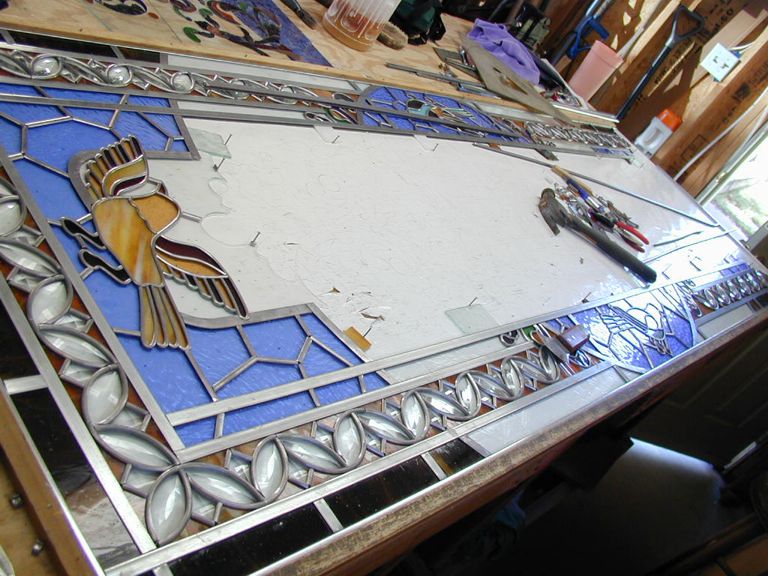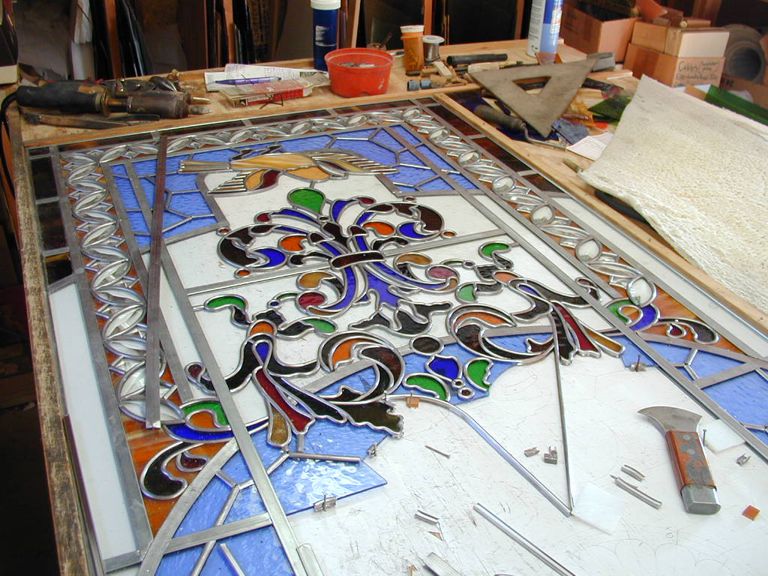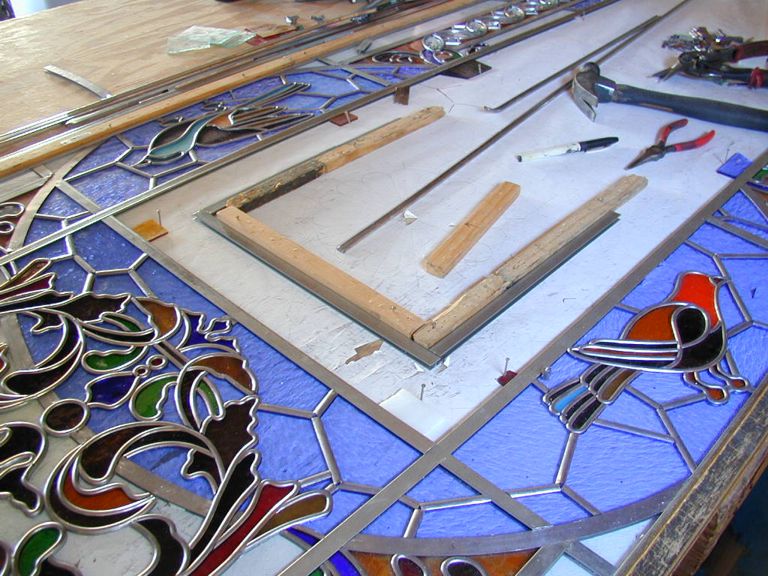 And here you can see that I used the same technique to ensure that the center cluster of bevels came out correctly, too.

In the fall of 2020, these clients remodeled their home, and no longer wanted this door. I stored if for them until we resold it to some people in Tennessee.

And self-fulfilling prophecies do come true! Just a few months later in the winter of 2016, I was asked to do this Hearthstone Stained Glass for Blizzard Entertainment, and that one was even more intricate than this one!